Alvina (Vi) Agnes Whalen

Life Stories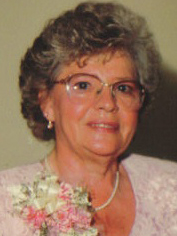 Caregiver: babysitter, mother, grandmother, great grandmother, aunt, sister, friend
Born: June 22, 1932
Died: March 13, 2003 in Hamilton, Ontario
Interred: Our Lady of the Angels Catholic Cemetery, Stoney Creek
Vi was one of 12 children born to Martha (Kohlen) and Aloysious Halbach. Her family moved from the family farm in Saskatchewan to Toronto, Ontario where she met and married Bernie Whalen on April 18, 1951. After the birth of their first three children, Vi and Bernie relocated to Hamilton and were blessed with another five children. Vi took on numerous part-time jobs, including cooking and care-giving, to help support the family. In spite of the size of their own family, Vi and Bernie never turned away a family in need and many times offered their home to those who needed temporary shelter. When she died, one of her sons, Gary Whalen, wrote the following about our mother, which is reprinted here with his permission:
"Parents write on the hearts of their children that which the rough hands of the world cannot rub out.
"Our mother taught many lessons to her children. She taught us to respect and think of others first. In each person, we should see God and act accordingly. She taught us to pray the rosary. Mom loved to sing, especially when we went on long trips to the East Coast, the West Coast and down through the States.
"She taught us how to be happy with what we had. Family and friends were very important to mom and she would strive to keep us as close to her as possible. If you asked her for anything she would do her utmost to get it for you.
"Mom loved every grandchild she had more than any of them could know. Her happiest times, even when she was tired, were when her grandchildren were around. She babysat every grandchild she had and that still did not stop her from babysitting other children. Mom had nine children, one dying at birth, and yet she still said she wished she had more. She was not seeking more punishment, though many would think that these days. Mom merely wished she could have her family close to her every minute of the day. She loved us even more than we know. In summary, Mom taught us to pray daily, respect everyone, and to stay close to family and friends."