Amelia Jane Clarke

Life Stories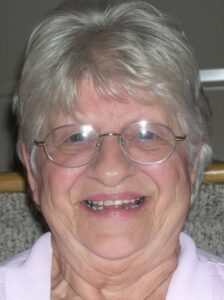 Beloved Wife, Mother, Aunt, Grandmother, Great Grandmother, Sister-in-law
Born: June 5, 1932
Died: December 14, 2014 in Burlington, ON
Interred: Gate of Heaven, Burlington
Over the past two and a half years of my Darling's battle with the ravages of cancer, we became so much closer and understanding of each other, I believe, than in the previous 52 years of our life together. Mainly due to the long talks we had, and, I believe, because of the intense feelings she showed me and which she brought to life in me as well, making our love for each other absolutely paramount, and center for both of us.
Amelia, at heart, was a "country girl", not overly sophisticated nor necessarily interested in "the running of the world", as she use to put it, and much more concerned with the well being of our children, friends, relatives, and that of the family in general. She had a wonderful selection of friends who all loved her and miss her terribly, and who all have their own sweet stories they could tell. Mine is how we came to be.
I first laid eyes on Amelia, (or "Emmy" as she preferred to be called), in a rollerskating rink in Woodstock, ON. some 55 years ago. I, a "young buck", and three other friends had driven over from London for a Friday night's skating, and, of course, to show off our superior London skills to all the young ladies of little Woodstock.
Oh my, what a great time we had whizzing around the rink, sliding in and out of the groups of pretty girls, making sure they noticed us, and, of course, picking out the lucky ones we were going to ask to go for "Cokes and frys" after, until one time I came around the end of the rink doing my best "Arthur Murray" dance skate when who do think popped up in front of me, doing the "baby-walk" on skates, but one Miss Balazs, whom I promptly ran into and knocked down. However, like the true gentleman I was, I "screeched" to a stop, fought my way back against the on-coming crowd to humbly beg forgiveness and to assist her off the rink to nurse her bumps and bruises. She looked up at me, from her prone position on the floor, and said just two words which probably described me better than anything could at the time,
After managing to calm her down, and having a chance to look her over in her cute little "sailor suit", it suddenly dawned on me as to just how beautiful she was… As it turned out, I was the only guy to meet a girl who would allow him to take her home, and so after the coke and frys I drove her home to the YWCA, where she boarded, made a date for the following week, drove back to pick up the other guys and made the profound announcement, Yep! You guessed it, "Guys, I'm going to marry that gal.", and one year to the month later, the happiest day of my life occured… I married Amelia Jane Balazs… I miss you Darling. XXOO