Bernard Alexander Whalen

Life Stories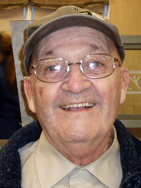 Employee of City of Hamilton, Volunteer: Legion of Mary; Knights of Columbus;Eucharistic Minister
Born: May 31, 1928
Died: January 12, 2009 in Dundas, Ontario
Interred: Our Lady of the Angels Catholic Cemetery, Stoney Creek
Bernie inherited his Catholic faith from his parents and was proud to pass it on to his own family. We remember him as a "man of faith" and knew him as a dad, an uncle, a grandfather. It was only after his death that we learned about the Facebook site dedicated to him, created by teenagers he met on the city busses.
Youth in Hamilton (who never knew his name) created a Facegroup "dedicated to the love and laughter of the beloved 'hey hey, ho ho' guy," called, "I saw the guy who sings hey hey ho ho on HSR busses around Hamilton."
Bernie took the bus every day to St. Joseph's for the noon Mass. On the bus he apparently continued his life-long habit of singing, dancing and rhyming that we experienced as children (he would wake us by announcing: "Shake off your drowsy sleep; arise and leave the silly sheep"). The Facebook tribute highlighted for all of us that Bernie's impact reached way beyond his family and close friends. As the youth (over 200 members) so aptly wrote: "Always remember: 'Hey hey, ho ho, I'm on the HSR, up the mountain, on the go'; 'I'll have a muffin so I can keep on puffin and a Coke so I won't choke'; 'I'm going down the road, and I'm not even carrying a load'; 'How the time goes by and the clocks don't lie."
I will always treasure these Facebook comments, e.g. "This guy is the reason Hamilton is the best city to live in…"; "I love the fact that he can make anyone smile on the bus…he made a baby giggle after she'd been fussing for a bit…he's a good guy! Love 'im"."
When dad's declining health resulted in a move to St. Joseph's Villa, he continued singing and dancing. A staff person commented: "This man is a ray of sunshine for our seniors."
Bernie's strong spirit survived cancer treatments, a heart attack, six heart by-passes and regular blood transfusions for multiple myeloma, yet he faced each day with a positive attitude and brought joy and a smile to people young and old from Nova Scotia to Montreal to Toronto to the streets of Hamilton and finally to St. Joseph's Villa in Dundas. We will surely miss you!
"Well done, good and faithful servant, now enter into the joy of your Lord!" Now you can sing and dance with mom (Alvina), already in paradise waiting for you!