Betty Helen Hurley

Life Stories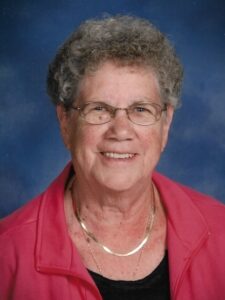 Mother, Grandmother, Super Volunteer
Born: August 7, 1934
Died: April 10, 2021 in Brantford, Ontario
Interred: St. Joseph, Brantford
Betty Helen Hurley's life-long character was forged by an upbringing during the desperate times of the Great Depression, was honed during the global uncertainty of the Second World War and was shaped as a working woman in the early 1950s. In the following decades, she faced the challenges of raising children during Brantford's glory days, but her integrity was most apparent during the decline of her husband's health and her perseverance was evident after her tremendous loss when he died.
On difficult days Betty found solace in knitting and this skill engaged a very active mind. Rarely idle, this prolific crafter could be found knitting when she had a spare moment and the fruits of her labour, hundreds of handmade mittens, were frequently donated to underprivileged children at an inner-city school on the Canadian Prairies. Her generous gifts were valued both for their uplifting colours and the reassuring warmth against the bitter cold of a frigid Manitoba winter.
While knitting was a tangible example of her charity, it was also a metaphor of her vibrant life. From a seventy year association with the Girl Guides, to a multi-year commitment volunteering with the Heart and Stroke Foundation, to say nothing of this astonishing octogenarian's dedication to the residents of a long-term care home, Betty symbolically weaved people into her life. Without a single thought that she was somehow unique, she managed to mend together unrelated people to forge resilient bonds wherever she went.
Most importantly, she joined together strong-minded offspring in this crazy, unsettled world. Her descendants are living examples of resolute individuals, offering much to society because of the example she knitted into our world. While we had an unforgettable father, it was our mother that braided us together.
Larger than life, extraordinary, and unrestrained by convention, she often exceeded the expectations of a little old lady. Betty Hurley will be forever remembered by her five children, eleven grandchildren and for generations to come.