Carmel North

Life Stories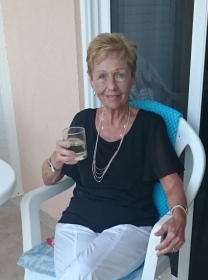 Mother
Born: December 9, 1935
Died: September 5, 2021 in Hamilton, Ontario
Interred: Holy Sepulchre, Burlington
Carmel passed away peacefully in her sleep on the morning of September 5th from cancer. She is predeceased by her husband Harold, son Gary, grandson David (Gary), brothers Laurie, Reggie, and Louie Theriault, sister Lorraine Coady, Parents Marie France Theriault (Leger) And Lionel Theriault, and brother-in-law Geordie Oak.
Carmel was born in a small town in New Brunswick called Beaverbrook to parents of modest means. When she met my dad she was working as a nurses aid, but Carmel was also a homemaker who did sewing alterations on the side when we were younger and as we got older, a waitress at the Woodward Diner where her sister in law Sharon Oak was the cook. After dad passed away, mom worked as an apartment manager until her retirement.
Carmel had 5 children, 2 girls and 3 boys. She is survived by her daughters Karen Boyko and Michele Oak and sons David and Wayne Oak. Brothers Emery and Claude Theriault, sister Alice McKay and many grandchildren, great grandchildren, great-great-grandchildren, nieces and nephews.
Mom loved to travel, especially to warm beaches. She would vacation every January with her daughter Karen and son in law Brian to someplace warm for a couple of weeks. I joined them for many years, relaxing on the beach, enjoying happy hour, eating meals together, site seeing. Those days were filled with smiles and laughter and that's how I choose to remember her. I only wish the entire family could have been together during those times.
Her and her sister Alice would also vacation on the beach every year, sometimes twice, and was looking forward to going again before covid shut down the country, and the world. Carmel loved happy hour on the beach and her and Alice continued the tradition at home. It was her time to relax and chill. Some of my fondest memories include happy hour in the Caribbean, whether that was Mexico or some island, we were all happy to be together and thought it would never end.
Mom also like spending time at the "camp" in New Brunswick during the summer with her brothers Emery and Claude and sister Alice. I had always wanted to join them for a week but never made it happen.
We will miss her blueberry pie's and apple pies.
"Don't cry because it's over; smile because it happened" – Dr. Seuss