Clifford G. Byrnes

Life Stories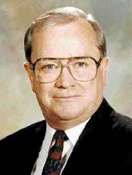 Catholic education leader, husband, father, recipient of the Diocesan Medal of Honour
Born: August 9, 1933
Died: February 1, 2008 in Burlington, Ontario
Interred: Our Lady of Victory Mausoleum, Holy Sepulchre Cemetery
Cliff Byrnes was out with a group of Cathedral High School buddies at the Sunday night band concert in Gage Park when he met Doreen Allen, who was there with her friends from Loretto Academy. Initially, one of Doreen's friends was more interested in Cliff, but Doreen decided maybe her friend was on to something. When Cliff asked her out, she said yes.
Six years of dating and a wedding at St. Brigid's in Toronto followed that night at the band shell. Cliff and Doreen switched from pre-med and nursing, respectively, to teaching so they'd get into the workforce more quickly.
Cliff distinguished himself as a teacher, provincial inspector and then board superintendent. He was director of the Halton Catholic District School Board from 1971 until his retirement in 1994, presiding over a period of unprecedented growth in Catholic education. Cliff convinced the school board to open secondary schools in Halton before full provincial funding was available, and was always proud that eight high schools were opened during his tenure.
Known as a kindly but strong leader, he was honoured in having the school board office named after him when he retired. A scholarship for education students was also created in his name at Niagara University, where he taught after retirement.
Four boys and four girls were born to the Byrnes'. Cliff was ahead of his time as a diaper changer and was thrilled to be in the room when his second youngest son was born. The doctors put unwashed Kevin in Cliff's arms and he walked around the hospital room, crooning to him. Doreen says baby Kevin always lifted his head the second his father's voice was heard in the home, "because it was the first voice he ever heard."
Through almost 50 years of marriage, Cliff maintained a sentimental streak. It was his job to recommend school names to the Bishop. He always included St. Brigid's in the list, after the parish where he and Doreen were wed.
Just before he retired, he finally got his St. Brigid's – an elementary school in Georgetown. Doreen cut class early that day to turn the sod.
Written with the assistance of Doreen Byrnes, wife.