Dolores Hamilton

Life Stories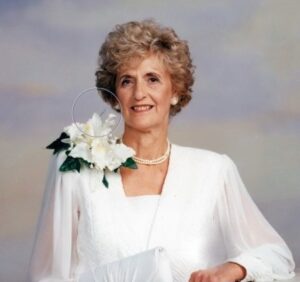 Wife, mother, grandmother, great grandmother, matriarch
Born: 1928-12-15
Died: 2012-04-18 in Hamilton, Ontario
Interred: Holy Sepulchre, Burlington
Dolores Caroline was born to Susan and Anthony Ardito in Toronto, Ontario. When she was 14 the family moved to Hamilton. The following year she left school and took a job at Dominion Glass. There, she met her future husband, Fred Hamilton. They were both 15 at the time. In 1947 they were married, just 18 years old.
The family settled down on Newark Ave, in East Hamilton in 1959. This was the beginning of 53 years as the matriarch of the family. Mother was always there to help us through times of trouble in every way you can imagine. Her conduit to staying in touch with everyone was the family meal, every Sunday, at her house. As the family grew to include grandchildren and great grandchildren she just made the dinner table longer!
She also started a career at Simpson Sears and several other prominent area businesses as an executive secretary. She enrolled in Glendale Secondary School taking several classes, including music. She received her grade 12 diploma and then took up the piano. After, when she was on her own, she continued to care for the grandchildren. Some of their memories included swimming in GG's pool at night and when they came out of the water shivering GG would wrap them in warm towels straight out of the clothes dryer. There were sleep overs and movie nights where GG would put several tapes under a blanket and the children could pull one out at random to watch. She always bought each one their favorite snack and hid the snacks in the island cabinet. The kids couldn't wait to raid the island! Mom was organized, too. On those Sunday dinners she would get upset when she saw a huge pile of shoes next to the door. When it was pointed out to her that it meant her whole family was here she was much happier. Though, she still cleaned up the shoes. She cared for us all and lead by example. She is very much loved and deeply missed.