Dorothy Montani (nee Meyer)

Life Stories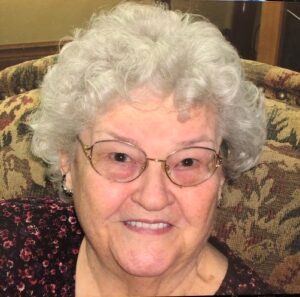 Loving wife, mother, grandmother and great grandmother
Born: October 24, 1926
Died: November 3, 2016 in Hamilton, Ontario, Canada
Interred: Holy Sepulchre, Burlington
Our mom, Dorothy, was a loving wife, mother, grandmother (Nona), & great Nona. She married Dominic (Don) Montani November 4, 1944 at All Soul's Church in Hamilton, Ontario. They were happily married for 49 years until he died February 19, 1994. She missed him dearly.
Dorothy loved her husband and her family. To her, 'Family was everything'. Being together with all of us brought her great joy.
Mom was a loving mother to Mary Jo and her husband Ed Dunn, Don and his wife Wendy (Powell) and Donna Lee and her husband Tom McConville. She was Nona to Donna-Marie (Montani) and her husband Dan Medves, Lisa Dunn and her husband Gavin Madell, Jason Montani and his wife Lisa (Barrett), Shari Dunn and her husband Jonny Kerr and Ed Dunn Jr.
She was a great-Nona to Mathew Montani (Jason), Jacob Woodcroft (Shari), Josh Medves (Donna-Marie), Ben Woodcroft (Shari), Luke Woodcroft (Shari), Maggie & Josh Madell (Gavin) and Emmy Kerr (Jonny)
Mom loved to read and said she learned about life from everything she read. She loved to read to her grandkids & great- grandkids. She loved to sing to them as well.
We celebrated most holidays together & when we were together, her eyes lit up with joy.
We know she is happy to once again be re-united with the love of her life, Don.
Thank-you Mom, for your loving example, your warm hugs, our talks & your shoulder to cry on. You showed us the meaning & importance of love & family. Before you passed, you called us together and said, "Promise me you will always love one another and keep our family together." You will always be in our hearts, mom. You have left a legacy of love.
Mom cherished a keychain, a gift from her mom. It said, "Dorothy means 'God's Gift!'." That has been who mom has been to all of us. We are all thankful for God's gift to us. God bless you, mom.
Submitted by Mary Jo, Don & Donna Lee (children) 1-2-3