Dr. Felix Degan

Life Stories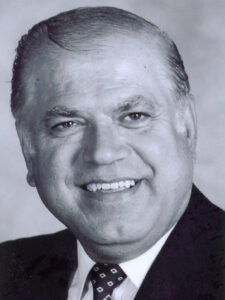 Immigrant, award-winning engineer, consummate family man and proud Canadian
Born: July 13, 1938
Died: June 29, 2008 in Guelph, Ontario
Interred: Marymount Catholic Cemetery, Guelph
Felix grew up in Italy during the Second World War and through the challenging times that followed. Felix emigrated to Canada with his family, arriving in Saint John, New Brunswick on Christmas Eve in 1959. He had no knowledge of the English language, but proudly held a degree from the Polytechnical Institute of Trieste. Upon arrival, the Canadian government gave each immigrant a $5 bill. Years later, each Christmas Day after all the gifts had been opened, Felix would offer each of his children and grandchildren a crisp $5 bill, asking them its significance. A correct answer and the winner could swap the bill for the gift in the other pocket, usually a much more substantive bill.
From his first job in Canada as a service station attendant, taken so that he could learn English and the ways of his adopted country, Felix's goal was to never stop learning. From design technologist to President of his own engineering company, he always continued his studies, receiving his Master's Degree in Environmental Science from the University of Pennsylvania and his Doctor of Philosophy in Environmental Management from State University of New York.
An active member of the Ontario Association of Certified Engineering Technicians and Technologists (OACETT) since 1984, Felix was also a member of a number of professional engineering associations and the honoured recipient of numerous awards. In 2005, OACETT created the Dr. Felix and Barbara Degan Award, honouring his years of involvement and his wife Barb's years of loving support. The annual bursary award is given to an outstanding international technology student at an Ontario college, continuing Felix's lifelong commitment to assist those who come to Canada from afar. A proud Canadian, Felix often talked about how being a Canadian afforded him privileges, but also how it came with such great responsibility.
Felix passed away on what would have been his mother's 95th birthday. Felix had a heartfelt bond with his mother, and often spoke about how she watched over him and his family. We all draw peace from the knowledge that Felix has been reunited with his mother, Pierina, and it somehow seems appropriate that he passed away the week that his adopted country celebrated its birthday.