Dugald (Doug) MacLean

Life Stories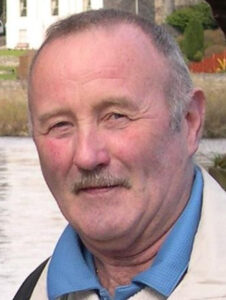 husband, dad, baba
Born: November 23, 1943
Died: May 30, 2009 in Guelph, Ontario
Interred: Marymount Catholic Cemetery, Guelph
Dugald (Doug) was born in Glasgow, Scotland to Allan and Mary (Beaton) MacLean. Allan died when Doug was two; his mother passed away when he was 12. Most of his younger years were spent with aunts and uncles in Oban and the Isle of Mull, home to the Clan MacLean.
At the age of 15 Doug began an apprenticeship to become an Industrial Insulation Mechanic, a trade he was devoted to until his retirement in 2002. Doug married Anne Cassidy in March 1967 and became a much loved member of her family.
Their first daughter, Rozanne, was born in Glasgow in January 1968. Anne and Doug decided Canada was a perfect place to raise a family, so in late 1968 Doug landed in Toronto and checked in with Local 95 of Heat and Frost Insulators and Asbestos Workers Union, which sent him to work in Guelph. Anne and Rozanne joined him March 1969. Their second daughter Michelle was born in Guelph in May 1970.
Doug provided a wonderful family life for himself, Anne, Rozanne and Michelle. Even when he worked out of town, weekends were filled with family fun. Following his daughters' marriages and the arrival of grandkids, the wonderful family life continued. Doug and Anne bought a trailer in Hepworth and enjoyed family weekends there for 10 years. There were wonderful family trips, especially with the grandkids, and other trips for Doug and Anne alone, just enjoying walking, hiking and biking together in Ontario's provincial parks.
In September 2008, while at the Owen Sound Salmon Derby, Doug felt pain in his abdomen. It was eventually diagnosed as Peritoneal Mesothelioma, a cancer caused by his workplace exposure to asbestos. The only hope of treatment was in the USA where Doug had surgery and chemotherapy. But soon more tumours formed and the cancer was too advanced for further treatment. Doug exceeded the four-week life expectancy doctors gave him and continued for 13 difficult and heartbreaking weeks. He was very accepting and calm, keeping his sense of humour to the end. Our sincere thanks to Fr. Ken Miskiewicz, Fr. Bill Trusz and Fr. Locky Flanagan for their spiritual care, support and friendship to Doug and our family.