Father John Joseph Murphy

Life Stories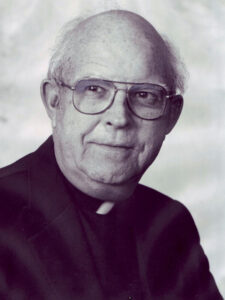 Parish priest, Diocese of Hamilton
Born: July 7, 1924
Died: March 2, 2008 in Hamilton, Ontario
Interred: Holy Sepulchre Catholic Cemetery, Burlington
In a world where many raise a hand in violence, Father John Murphy raised his hand in blessing.
In a world where many use the hand as a means of grasping, he offered a hand as a sign of peace.
In a world where many draw attention to themselves and crave recognition as successful, Fr. Murphy simply pointed to Christ crucified and risen as the source of triumph.
It was these qualities that defined the priesthood of Fr. John Joseph Murphy. He recognized that the powers of the priesthood were a treasure he carried not for his own benefit, but for others.
Fr. John Murphy was born July 7, 1924 to the late John and Catherine Murphy of Hamilton, a brother to Anne (Nancy). He later attended St. Ann School and Cathedral High School in Hamilton.
Sensing that the Lord was calling him to a life of service in the Church, John attended St. Augustine Seminary, in Toronto, where he determined that his attraction to the priesthood was a true vocation. He freely and generously chose to follow Christ and was ordained a priest for the service of the Diocese of Hamilton on May 1, 1949.
From his ordination until his first appointment as pastor, in June of 1962, Fr. Murphy served faithfully as an associate pastor in several parishes.
From 1962-1976, Fr. Murphy was Pastor of Holy Rosary Parish in Milton. Of note during his pastorate was the construction of the parish church in June 1966. He was appointed pastor of the oldest parish in the Diocese, St. Augustine in Dundas, serving from 1976-1988 during which his interest in building continued with the renovation of the parish church.
For the next 10 years Fr. Murphy was Pastor of St. John the Baptist Parish in Hamilton until his retirement in 1998. He enjoyed retirement for a period of time until he became quite ill and had a lengthy stay in hospital.
In spite of his physical infirmities and limitations, Fr. Murphy continued to minister to those with whom he came into contact. He remained faithful to prayer and the celebration of the Eucharist, and assisted when possible at St. Augustine's Parish in Dundas. He made everyone welcome and he enjoyed visitors. Though he must have experienced severe limitations, he never once complained. He will be missed by all who cared for him and for whom he cared.
Submitted by Father Leonard Strohmeyer