Father James Mihm

Life Stories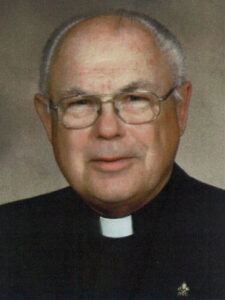 Parish priest
Born: September 10, 1936
Died: January 3, 2007 in Burlington, Ontario
Interred: St. Theresa Catholic Cemetery, Elmira
January 3, 2009, will mark the second anniversary of the unexpected death of an exemplary priest, Father James Mihm.
At the time of his death, Fr. Mihm was Pastor of St. John the Baptist Parish in Burlington, Ontario. While his parishioners knew him well, few were aware of his contribution to the Diocese of Hamilton as Chairman of the Building Committee and as a Diocesan Consultor–an appointment made by Bishop Tonnos to a group whose counsel he seeks from time to time on matters of importance in the Diocese.
Fr. Mihm had been in deteriorating health for some time; however, the diagnosis of a life-threatening illness arrived at just weeks before his death.
While he shared with only a few the seriousness of his condition, he did write a letter to parishioners only a few days before his death, which outlined with candour and courage his condition, and what the future might hold.
Earlier he had asked another priest, Bishop Tonnos, to administer to him the Anointing of the Sick.
Fr. Mihm died during the night of January 3, 2007. Just the day before, he had responded to a request to administer the Anointing of the Sick, and assisted a parishioner in preparing for death.
Visitation for Fr. Mihm was held at St. John's Church in Burlington. Family, friends, and grieving parishioners from parishes where he had served, especially St. Michael's Parish, which he had founded, came in great numbers. For two days they came in a steady stream to honour an exemplary priest and to offer prayers, as is the Catholic tradition.
If one might imagine the encounter of Fr. Mihm with the Lord he had served so faithfully it might have gone like this–I was hungry and you fed me with the Word of God–I was thirsty and you taught me to drink of the living water who is Christ–I was naked and ashamed and you clothed me with the words of God's forgiveness–I owned only regrets and disappointment and you taught me to hope.
Well done, good and faithful servant, for as often as you have done this to the least of my brothers and sisters, you have done it for me–come in to the joy prepared for you from the foundation of the world.