Frank Kretz

Life Stories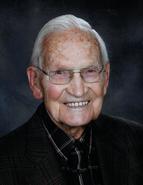 Father, tool maker, tennis aficiondo, bridge player, dancer and a man who could fix anything
Born: September 24, 1919
Died: March 7, 2019 in Burlington, Ontario
Interred: Holy Sepulchre, Burlington
Frank von Sales Kretz was born September 24, 1919 in Altnau Switzerland on the shores of Lake Constance. The 10th child of farmer Conrad Kretz and his second wife Sophie. The family emigrated to Canada in 1921 settling down on a grape farm near St Catherines.
Frank graduated from technical school and became a tool and die maker at General Motors. He volunteered for the Navy during WW2 (one of 7 brothers to join the war effort). He was stationed in Halifax to repair ships but was soon seconded back to General Motors in St Catherines as his skill was needed to build war materiel.
After the war Frank met Betty Ann MacDonald who lived 3 houses down on the city street the family had moved to. They were married in 1946 and moved to Hamilton where he joined Westinghouse as a tool and die maker. In 1954 the family moved to Aldershot where Frank and Betty Ann raised a family of 2 boys and 2 girls.
Frank was active in the community. He started playing tennis and in 1962 became the president of the Aldershot Tennis Club initially on Townsend Road. He later worked with the City of Burlington and organized the club to move to its present location on Gallagher Road. In 2010 for his service to tennis, Frank was awarded the Ontario Tennis Association's Distinguished Service Award. He was also inducted into the Aldershot Community Honour Roll in 2010 for his "significant contribution to the growth and popularity of the game" of tennis in Burlington.
Frank had a nice tenor voice and was a long-time member of the Harvester Male Chorus. He was active in his church as well being a member of the choir at Holy Rosary on Plains Road in Burlington.
Throughout his life Frank was an avid gardener, growing vegetables for his family as well as cherries, peaches, apples, pears and grapes. In addition to gardening, Frank was famous for his ability to fix truly anything. In the two-floor extension he built on the family home Frank had a completely fitted out tool makers shop.
Frank was an avid bridge player and dancer.