Frederick Hamilton

Life Stories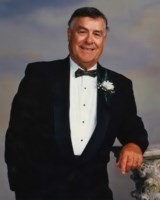 Husband, father, grandfather, great grandfather, sportsman, community volunteer
Born: 1928-08-26
Died: 2006-08-11 in Hamilton Ontario
Interred: Holy Sepulchre, Burlington
Fred was born into humble beginnings on a small farm in Ancaster, Ontario just outside of Hamilton. As a 15 year old he was first employed at the Dominion Glass Company during the war years where he met the love of his life, Dolores. After a two-year courtship, Fred and Dolores were married on August 23, 1947. They were soon blessed with a daughter Lynn, and a son Fred Jr. who in turn gave them six grandchildren, Lisa, Dana, Adam, Olivia, Mya and Alicia; then came six great-grandchildren, Emma, Hannah, Isabella, Kaya, Eva and Lena.
Fred played football at the junior and intermediate levels with the Mahony Bears, Hamilton Wildcats and the Dundas Blue bombers from 1946 to 1951, winning two championships. He was an MVP and was awarded the Angelo Cicero Memorial Trophy. He then joined the Saskatchewan Roughriders from 1952 to 1958 and finished with the Sarnia Golden Bears and a O.R.F.U championship in 1958.
Fred then had a successful 26 year career with Molson Breweries. In 1990 he retired and for the next 17 years he enjoyed being a member of the local hunting and fishing clubs as well as being a community volunteer. His community service included over 100 donations of life-giving blood. He was an alumni member to both the Saskatchewan Roughriders and the Hamilton Tiger Cats where he hosted the Ti-Cat Alumni Lounge at Ivor Wynn stadium.
Add to his passions, his love for his family; the many festive gatherings around his dinner table; the many summer barbecues around his back-yard pool, and the driving force behind the family unit, his devoted wife of almost 60 years, Dolores, known to all the family as "GG" but especially to Fred as…"Dol", My Angel!