Genowfa Jean Bilyk Skokun

Life Stories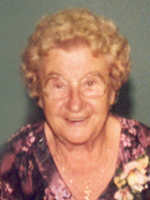 Grandmother, mother, auntie, sister, mother-in-law, friend
Born: January 14, 1915
Died: January 5, 2002 in Brantford, Ontario
Interred: St. Joseph Catholic Cemetery, Brantford
My Baba was an extraordinary person. When she smiled the room lit up and she seemed to make all your troubles vanish with her kind words and warm embrace.
When people ask me who my Baba was, I tell them that I remember her as the woman who let me dunk my cookies in her tea, and who always had peppermints in her purse. She taught me how to play Rummy and filled the old wash tub so I could swim in the backyard. Baba thought it was just fine if I wanted to eat Alphagetti cold out of the can, and she could always be counted on to have delicious ice-cream treats in the freezer.
Baba always made me feel loved when she put her arms around me. She never had an unkind word for anyone and believed in peace and goodwill. She was more than just my grandmother, she was the strength, love and goodness in our family. She was an amazing wife and mother, an incredible Baba, and a wonderful sister, mother-in-law, Auntie and friend. Her unconditional love, understanding and forgiveness was felt by all who had the privilege of knowing and loving her.
She was the beloved wife of Stanislaus Stanley Skokun (November 11, 1909 – June 22, 1991). She was a loving and caring Mama to three sons, Melvin, Tony and Billy and an extraordinary Baba to Stephanie Genia, Marie Catherine, Heather Janet, Michael Anthony, Laura Lynn and Christopher Thomas and an adoring "Big Baba" to Cole-Jorden Wm. Philip, Tanisha Leah-Anne, Nicole Taylor and Ashley Jordan.
Heaven got a little brighter on January 5, 2002, when Baba passed away peacefully in her sleep at the Brantford General Hospital.
I love you Baba, thank you for always being you. I pray now that you're in the safety of God's hands, and that all your goodness will live on and grow in our hearts.
It doesn't matter whether you called her Mama, Baba, Auntie or Dear Friend, the love she had for us all will live on forever.