George Boyce

Life Stories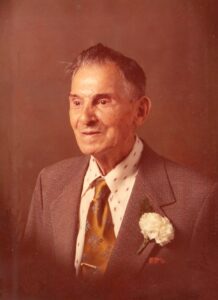 Son, Brother, Father, Grandfather
Born: 1891-03-05
Died: 1983-03-10 in Royal Oak, Oakland, Michigan
Interred: St. Joseph, Brantford
George was born in Brighton, England. At the age of 10, he lost his mother. His father remarried, and at the age of 13, he was removed from his home by officials due to being beaten by his father's wife. Once removed, he was put on a ship and sent to Canada. He worked on a farm, and studied with George White and Sons to learn his trade of Tool and Die. He served in WWI, and while serving he was stationed in France where he met his wife Julie Louise Lauryssen, who was born in Belgium in the year 1900. They were married in Le Havre, France in 1920. She moved to Canada with George to start their lives together.
In 1921, George went to the United States to find work. He found a job working for Henry Ford, at the Highland Park Plant. He purchased a small house in Hazel Park, Michigan, and they became American citizens at this time. They were blessed with three daughters, and lost one son at 3 months old. Each child was born in Canada, and came back to the United States when they were able to travel. George's wife Julia was sick, and she passed away at the age of 24. She left George with three daughters under the age of 4. My Mother was only 6 months old.  George couldn't take care of them, so he sent them to Belgium to stay with their Grandparents. George worked many hours and sent money to pay for their keep and needs. They came back to live with him 3 years later. He paid for them to be taken care of at Saint Vincent Home until they graduated from there at 16 years of age.
George retired from Ford, and moved to Los Angeles, California for a few years. He sold his home to my Mom, and she raised 9 children there. My Grandfather came back to Michigan, and lived 4 streets away from us. He died at 92 still loving his Julia. He was the greatest father, and Grandfather a family could have. He showed us strength, love, and knowledge.