Harold Gerard Phillips

Life Stories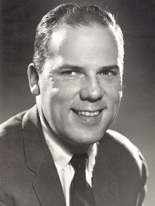 Loving Husband, Caring Father and Proud Grandfather
Born: January 21, 1927
Died: September 13, 2009 in Burlington, Ontario
Interred: Holy Sepulchre Catholic Cemetery, Burlington
Harold Phillips was born in Brantford, Ontario, on January 21st 1927. As the youngest of four sons, Harold developed his independent persona and witty sense of humor. The "Brantford years" were full of fun and adventure with many wonderful memories of time spent with family and friends.
Harold graduated from Saint Michael's College School in Toronto and then returned to Brantford. While working for the Canadian Bank of Commerce he met and later married Jean Whalls. After several years, Harold grew tired of the banking business and began to pursue his dream of becoming a salesman. Eventually he was hired by the Firestone Tire Company and after learning the automotive business, he was transferred to Sales. Over the next 31 years Harold established himself as a stellar tire salesman, in places such as Niagara Falls, Goderich, Saint Thomas, Windsor, Ottawa, Toronto and Burlington. He won many honors and awards for outstanding performance as a salesman and store manager. Harold was promoted to Head Office, becoming responsible for training and mentoring new salespeople. He became an advisor to Junior Achievement of Hamilton, encouraging young people to become involved in business and community.
Life was not all work for Harold and Jean. They provided a loving and caring home for their five children, Stephen, Paul, Susan, Catherine and Janet. The Phillips household was always alive with activity, where friends were always welcome. Harold took an active part in the kid's activities, always encouraging them to excel. The greatest lesson he taught his kids was that "Family Matters Most." Whether it was the summer trips to the cottage or the family adventure at Expo 67, the best of times were when the family was together. Harold even took up motorcycle riding for about five years and after riding across Canada he hung up his helmet.
Following retirement from Firestone, Harold launched a successful Human Resources consulting firm, HGP Management Services. After selling HGP the entrepreneurial spirit was still strong and Harold started a retail business venture, Flags Galore. This very successful business, which was started from the home and expanded into a retail location in less than two years, was also sold. Finally, a second retirement followed. Harold and Jean spent their retirement years in Burlington enjoying the company of friends and family, including seven grandchildren.
Harold will be lovingly remembered for the three pillars of his life: Family, Faith and Friends.