John Henry Winterhalt

Life Stories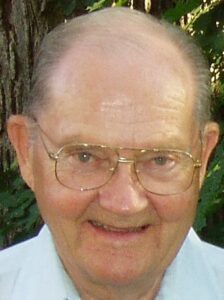 Father of three, grandfather of six and great grandfather of three
Born: March 15, 1920
Died: December 28, 2018 in Burlington, Ontario
Interred: Holy Sepulchre, Burlington
John died peacefully at Joseph Brant Hospital, Burlington, Ontario on Friday, December 28, 2018 at the age of 98, while recovering from a hip fracture and a peripheral arterial angioplasty.
John is survived by his wife of 74 years, Dorothy Winterhalt; by daughter Joan Philp (Greg), son Bill Winterhalt (Kathy Pounder), and daughter Ruth Winterhalt (Michael McMahon); by grandchildren Michael Philp (Stephanie Nykamp), Heather Philp (Brian Fowler), Sarah Winterhalt (Bill Cowper), Amy Winterhalt, Eirin McMahon, and Martha Winterhalt (Karl Leuschen); and by great grandchildren Kailey Fowler, and Edie and William Cowper.
John was born March 15, 1920 in Kitchener Ontario and started work there during the depression as a bank clerk at the age of 17. He was transferred to Montreal in 1941 and had a varied work career there that included accounting, real estate management, sales and appraisals, and mortgage insurance. He met Dorothy in 1942 at Lakeside in Pointe Claire, Quebec, and they were married in November, 1944. They lived and raised their three children in nearby Dorval, Quebec. John's company transferred him to Toronto in 1972 as an assistant general manager. He retired in 1982. He and Dorothy enjoyed many years curling, golfing, travelling the world and spending time at the family cottage in the Laurentians. After retirement, John and Dorothy moved to Burlington, Ontario and enjoyed their condo-apartment life at 2055 Upper Middle Road, where they engaged in social activities, bridge, swimming and billiards with many neighbours and friends in their building. John and Dorothy continued their golfing at Pineland Greens in Millgrove.
Dorothy moved to Christopher Terrace retirement home in July of this year. John stayed on in the Condo, hoping to continue his golfing with the "Bandits" and billiards with friends in the building; however, his medical issues ended his golfing and billiards and he joined Dorothy at Christopher Terrace in early November.