Joseph Glassco

Life Stories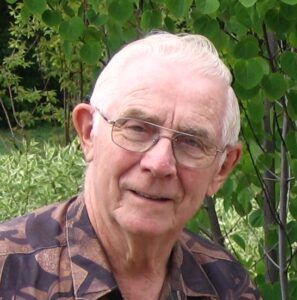 Father
Born: 1924-02-11
Died: 2016-03-13 in Hamilton
Interred: Holy Sepulchre, Burlington
Joseph Glassco
Born Feb 11, 1924 to Katie nee Miller (Jun 2, 1901–Sept 27, 2002) & Frank Glassco (1892–Jul 1958).
Paternal grandparents were Catherine Klunic & Bonaventura Blaguski (born Jul 13, 1864). Maternal grandparents were Frances nee Secen (Sept 23, 1876–Apr 11, 1906) & Martin Staresinic (1874-1951). His father, Frank, changed his name from Blaguski to Glassco as did his grandfather from Staresinic to Miller.
Education began at Red Hill on Mount Albion Rd and high school at Saltfleet (Grays & Hwy #8 then) with his sister Kay and his Aunt Christine. He started at McMaster and completed his Mechanical Engineering degree at Queens University in May 1949.
Work at Delco Products (1952-1957) then at by Stromberg Carlson (1957-1963) brought him to Rochester for 10 years; commuting to Hamilton to help manage the farm.
At Wigwassan Lodge, he met Margaret Bourrie. They were engaged in Oct 1960 and married in Jan 21, 1961. In 1963, they moved back to Hamilton.
Work on the farm continued, so he switched careers earning his faculty of education in 1968 and worked as a high school teacher for the rest of his career.
In the late sixties, his family sold most of the farm. Next, he designed his forever home on Country Club. The barn was torn down and 88 was built in 1975 next to his mom & Kay's house. Eventually all daughters & their families lived in a row (Jane, Cathy & Nancy) with Mary Jo down the street until 2018.
He loved to travel and went across Canada, US, Europe and the UK. His golf passion saw him play 72 holes a day in his 72nd year. A love of bridge and the stock market kept his mind sharp until the end.
Marg's brush with cancer in the mid 70's saw Dr. Joe emerge. He was a pioneer in natural medicine and home remedies that served himself & Marg well as they both led healthy lives until old age.