Josephine Agbaneje

Life Stories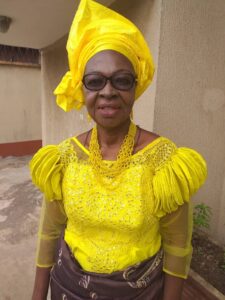 Mother
Born: 1957-09-05
Died: 2022-12-07 in Milton, Ontario, CA
Interred: Holy Family Cemetery, Milton
Ezinne Lolo (Mrs.) Josephine Agbaneje, nee Esuzor, was a kind, loving, and generous person who touched the lives of everyone she knew. Born on September 5, 1957, in Idumuje-Ugboko, She grew up with a strong sense of family and community. She always remained positive and determined despite any challenges she was faced with and made the most of every opportunity that came her way. Some common words used to describe her have been calm, easygoing, and hardworking. Josephine passed away on December 7, 2022, leaving behind a legacy of love and inspiration.
Josephine was the third child of her mother, Esuzor. Fondly called "Baby" by everyone who grew up with her.
In July 1982, Josephine married Theodore Agbaneje and together, they had 4 children and 8 grandchildren and built a happy, loving home. A home filled with extended family.
A huge part of her life was actively participating in church activities and prayers. Like attending daily midday mass, praying immediately she enters the car to set out of the house and knew the names of saints who would intercede for causes. Eg. St. Anthony for lost things, and St Christopher for travellers. She enjoyed dancing, spending time with her grandkids, and working.
Josephine was a remarkable person who lived a full and meaningful life. She was always there for her friends and family, offering support and guidance whenever it was needed. She remained a major link for relations abroad and in areas outside Lagos. Her home was always a connecting point for those passing through Lagos. To paraphrase her niece "You won't understand the impact this loss is on everyone". I urge you to read through the tributes in this book to see some examples. Her memory will live on through the countless people she touched and the legacy she left behind.