Katherine Martino (nee Murphy)

Life Stories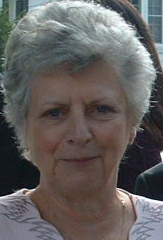 Mother, Teacher, Grandmother, Force of Nature
Born: 1938-11-26
Died: 2022-06-10 in Burlington, ON
Interred: St. Augustine, Dundas
The matriarch of the Martino family, Katherine will be profoundly missed by her husband of 63 years, Michael John Martino, her four sons Michael (Carol), Terry (Tracey), David (Martha), Kevin (Tami) and the ten grandchildren she loved so much.
The daughter of John and Eileen Murphy, Katherine grew up in Hamilton and attended Notre Dame Academy. Upon graduation, she married the love of her life, Michael J Martino. A very young Katherine taught elementary school at St. Augustine's in Dundas while Michael graduated from Osgoode Hall Law School.
The couple welcomed four sons in five years, but she managed to volunteer with the Catholic Children's Aid and the Elizabeth Fry Society of Hamilton. She completed a Bachelor of Education over thirteen years!
Eventually, Katherine earned a Masters in Social Work from McMaster University and a Masters in Education from the Ontario Institute for Studies in Education (OISE). She returned to education in 1983, in guidance at Notre Dame in Burlington, before becoming the long-serving Head of Student Services at St. Ignatius of Loyola in Oakville.
Katherine was an avid sportswoman, a fine conversationalist, and the family secretary, with perfect penmanship. She loved the best in interior design, fine food and wine, interesting travel, and everything about summers at the cottage on Long Point, Balsam Lake. She was Mom to her boys, Nan to her ten grandchildren, and simply Katherine to everyone else. Under any name, she was an unfailing support, ready to share in the joys and the struggles of the many people she mentored and touched.
In later years she suffered from mobility issues and then the cruelty of Alzheimer's, but bore it all with enduring grace. She will be remembered as a kind and courageous woman, with a strong will and true compassion and empathy for all whose lives she touched.