Luigia Gemma Gorgi

Life Stories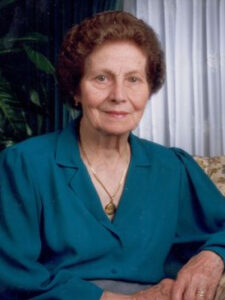 Dedicated wife, mother, grandmother, great-grandmother
Born: April 8, 1922
Died: September 11, 2007 in Guelph, Ontario
Interred: Marymount Catholic Cemetery, Guelph
Gemma (Bertollo) Gorgi was born in a little town in Italy, where she was the youngest of six children, the daughter of Guiseppe and Angela. At school, Gemma was a bright student but she started working at the age of 11 since there was no money for schooling, and to help support the family (working in the silk factories of Italy). It was a very hard job, which she did in combination with running the family home, since her mother was ill.
In 1939, WWII broke out and another dimension was added to her already difficult life. Having grown up in poverty, she was given yet another challenge to survival. However difficult, she always spoke of those years lovingly because of her family, friends and faith. She often said it was a great time in her life.
On July 7, 1947, Gemma married Alberto Gorgi whom she had known from a young age and who lived in the neighbouring town of San Martino. Alberto was in construction and she would help him with the bookkeeping. Life in post-war Italy was very difficult, so Gemma and Alberto decided to immigrate to Canada with the sponsorship of Zia Rosina Beghetto. Alberta arrived in Canada in 1951 and Gemma joined him in 1952.
As immigrant parents, Alberto and Gemma worked day and night to provide for their five children. Alberto started a construction company of his own with the help and support of his loving wife. Gemma was a perfectionist in all she did and accomplished. She was a talented housekeeper (you could eat off her floor), excellent cook (everything from scratch), creative seamstress (made her own patterns), and gardener. During the day, you could often hear her singing as she accomplished her tasks from early morning to late night.
Gemma was an extroverted personality. In spite of her diagnosis of Parkinson's Disease, she never complained but continued her legacy of great wit and humour. As her family, we loved this about her and miss her terribly.