Margaret Glassco

Life Stories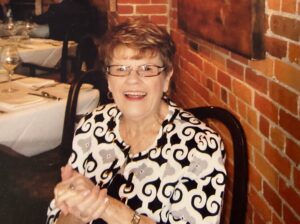 Mother
Born: 1934-03-26
Died: 2021-12-28 in Stoney Creek, ON
Interred: Holy Sepulchre, Burlington
Margaret Glassco
Born at St. Michael's Hospital, Toronto: Mar 26, 1934.
Daughter of Albert Joseph 'Herbie' Bourrie (Jan 9, 1896-Apr 13, 1990) & Mary Beatrice Carley (Jul 17, 1896 – Mar 13, 1949)
Sibling to Ken Bourrie (Doris), Barbara Lancefield (Douglas) & Helen Tremble (Paul)
Paternal Grandparents: Joseph Bourrie & Mary Martha nee St. Amant (May 24, 1871 – Jun 30, 1970)
Maternal Grandparents were Henry Carley (Sept 25, 1854-Jul 12, 1902) & Margaret Jane nee McNally (Feb 26, 1865-Nov 28, 1915).
She attended Blessed Sacrament School on Bedford Park Ave and St. Joseph's College School for high school.
She moved to Rochester, NY after getting married on Jan 21, 1961 to Joseph Glassco (Blessed Sacrament Roman Catholic Church, Toronto) until Fall 1963. Jane (Graham Hills) was born on May 1, 1962 in Rochester. Cathy (Phil) was born on Oct 8, 1963, Nancy (Dan) on Sept 21, 1965 and Mary Jo (Roger Sinclair) on May 26, 1972 all in Hamilton.
Her grandchildren included Carley, Brittany & Nicholas Roberto, Luke & Jeffrey Hills, Chloe & Spencer Donohue & Charlie Vigus.
She worked at Simpsons in Toronto followed by an insurance company in Rochester until Jane was born. After raising her girls, she worked at Robinson's department store, now The Bay as a Sales Associate.
She was a 2-time cancer survivor with a positive outlook. She was always ready to try something new. Her 'get up and go' never 'got up and went'. She loved to laugh and was known for her endless sayings!
She played countless hours of bridge that connected her to so many life-long friendships.
She loved to travel; Canada from coast to coast, much of the US, Europe & Asia.
After Joe passed away in Mar 2016, she moved to Amica Seniors Residence in 2018 where her last years were fraught with dementia.
Marg will be forever remembered.