Mary Elizabeth Kruchka

Life Stories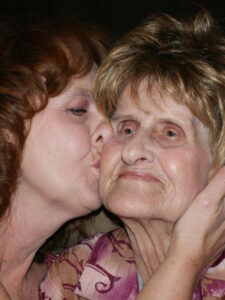 Mother
Born: February 16, 1931
Died: November 5, 2012 in Hamilton,Ontario
Interred: Gate of Heaven Catholic Cemetery, Burlington
On November 5, 2012, my world changed forever. It was the day my mother – the most wonderful, caring and compassionate, generous, giving and loving woman – passed away.
My mother was one in a million. No task was too big or too small for her; she could do anything she put her mind to. She was the best cook and baker I have ever known. My mom was the best at everything but I would have to say she was the best at being a mom. She gave birth to seven children and loved us all the same.
She was more than a mom, she was my best friend. She learned at a very young age how to survive in this world without a mom, as she and her sister lost their mother and were raised by their father. My mother learned then how to cook and bake and care for her little sister, which is why she was such a great mom to all of us (she had plenty of practice). Her life was not an easy one, but she never gave up!!
Five years ago she was diagnosed with colorectal cancer, but this did not stop my mom – she fought with everything in her and managed to survive four more years. Even when the cancer came back, she would not give up. She fought right until the end and even outsmarted the doctors by living three more months than they said she would!! My mother was a truly amazing woman and I pray she is at peace now and hope she knows how much we love her and miss her and always will.
Goodbye, mom, until we meet again. God has truly gained another angel in heaven.
Love you forever – Kim xoxo