Olivetta Maria Concetta Melatti

Life Stories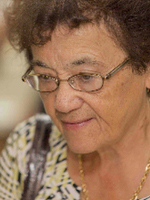 Teacher
Born: December 1, 1940
Died: May 23, 2014 in Hamilton ON, CANADA
Interred: Resurrection, Ancaster
Olivetta, Olive, Mrs. Melatti, Zia Olivetta, Ziavetta, Commara, Cuma, Olly, Nonna, Ma. These are the many badges of honour our mother carried.
For 50 years, she was the devoted wife of Mario Melatti, and the dedicated Ma to Rosanna Melatti (Rick), Dino Melatti (Joyceanne), and Silvana Melatti-Cocuzza (Joe).
Our family would like to give thanks in celebrating our mother. We always knew what an amazing, generous and kind woman she was, and during her 15-month illness, the outpouring of love and support proved this. We are humbled.
It's difficult to describe our mother with words, since she lived her life in the most positive way, saw the good in everything and encouraged others to do the same. Her actions, and incredible example she showed her children and grandchildren made her a true role model. She cared deeply for everyone she knew, whether you were her family, a friend or a neighbour.  She was always willing to help someone in need.
Although she had three young children, she was always available to pick someone up, watch kids after school, tutor, share a recipe, drive you to an appointment, and teach the English language. She had the kindest heart and her house was always filled with family and friends.
She was a person so filled with light. Everyone knew her. Everyone loved her. Even those who knew her for a short time quickly learned what a special and unique lady Olive was.
As kids, it was difficult to understand what a positive influence she had on so many people, but as we grew older it became gratifying. Rosanna, Dino and Silvana are the people they are today because of her influence.
She adored her grandchildren, Skye, Joe-Luc, Dino, Dante and Simona, each one of them had a special bond and connection with her. Her legacy will live through them.
We will miss her with all of our hearts, and will always cherish the times we spent together. Even though she is gone, her memory will live on in our hearts forever. Her spirit has not left us.
Our mom was a remarkable woman. Cherish the memories you have of her, and honour her memory by doing good things for others. We hope that special memories of her always bring you comfort and joy.
"A heart is not judged by how much you love; but by how much you are loved by others".