Pasqualina Ferraro

Life Stories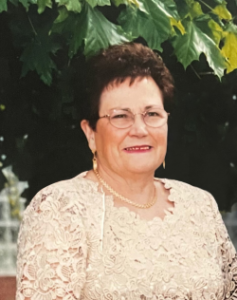 Dedicated wife, mother, grandmother, great-grandmother, friend♡
Born: 1937-05-16
Died: 2022-03-04 in Guelph, Ontario
Interred: Marymount, Guelph
Pasqualina was born in 1937, in the village of Montelrone, Italy. She was born into a family with 2 sisters, Pasqualina being the middle child. Her early life was difficult as she was born during WW2 and for her family's survival, she was forced to leave school and work on her family's farm by the age of 8. In 1959, she got married at the age of 22 years old, to our amazing Father/Nonno Luciano. Soon after she had her eldest child. In 1968, she immigrated here, to Guelph, in search of a better life for her young family. A couple of years later, she welcomed into the world a daughter and a son.
Pasqualina invited everyone who arrived at their home with joy and, of course, lots of food and drinks. She was an amazing cook and was constantly making pizza, lasagna, cookies, and cakes from scratch with unrivaled talent and passion. Pasqualina also spent many hours attending to her flower and vegetable gardens. Her natural green thumb grew blooms that burst continuously with colour and size. Her biggest passion was her children and grandchildren who she constantly showered with unconditional love.
Mom/Nonna would always say, "please don't cry for me when I'm gone. I just want you to remember me." Well Mom/Nonna, we can't promise any tears. But we can promise that we will remember and love you forever and ever.