Paul William McDonald

Life Stories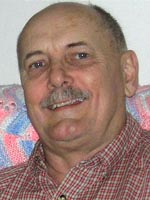 A devoted father, son, brother and friend
Born: February 25, 1943
Died: March 8, 2008 in Brantford, Ontario
Interred: Holy Cross Catholic Cemetery, Brantford
1 Corinthians 13, Verse 4-8
Love is patient, love is kind, it does not envy, it does not boast, it is not proud. It is not rude, it is not self-seeking, it is not easily angered, it keeps no record of wrongs. Love does not delight in evil but rejoices with the truth. It always protects, always trusts, always hopes, always perseveres. Love never fails.
We are overwhelmed with admiration and gratitude for the person that God chose to be our Father. At the heart of every great father is the willingness to sacrifice for the sake of his children. Dad sacrificed himself in countless ways for us. He was honest, gentle, wise, kind, loving, thoughtful, loyal, patient, resilient, always authentic, and a true gentleman. We are so honoured to call him DAD.
Paul William McDonald was the cherished father of Kerri Ann and her husband Harold (Bud) MacAskill, Julie and her husband Mark-Anthony Henry, and Amy McDonald. Not only was Dad the best father a child could ever have, he was an incredible grandfather to five beautiful children. Natalie, Nathan, Alhannah, Ethan, and Samuel will all miss him terribly, but they will always have their own special memories of their "best friend."
Dad was the eldest child of Peter (deceased) and Nan McDonald, and the special "big brother" to his sister, Pat Shewchuk, and brothers, John and Richard McDonald and their families.
Dad worked at Canadian Blue Bird Coachlines for 43 years. He spent 26 years working in the factory building school buses and the remaining 17 years he spent working in the sales office selling the school buses. It was throughout his many years of service at Blue Bird that special friendships were created. Dad cherished each one of those friendships until the day he died. He was highly respected and loved by many.
Like a good Canadian, Dad loved watching the NHL. He loved golfing with his friends, creating his model railway, watching Formula One racing on TV, and walking with his best friend, Jack.
Dad died doing what he always did best, helping others. He was taken from us far too soon, but has left us all with many special and happy memories that we will cherish for the rest of our lives.
We love you so much Dad…Until we meet again.
Forever in our hearts.
Love, Kerri, Julie, and Amy
A DEVOTED FATHER, LOVING AND KIND, WHAT BEAUTIFUL MEMORIES YOU HAVE LEFT BEHIND.