Regina Bruce

Life Stories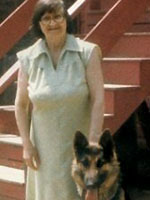 Mother, Grandmother, Registered Nurse
Born: September 12, 1915
Died: December 25, 2007 in Hamilton, Ontario
Interred: Resurrection Catholic Cemetery, Ancaster
As a devoted R.N, midwife and caregiver, Regina was dedicated to helping others. In 1938, Regina graduated from the Grace Hospital in St. John's, Newfoundland, as a Registered Nurse. She was the first R.N. in her village.
Everything about Regina reflected her originality. Her verbose nature was accompanied by her colourful lexicon, unique to where she came from: a small community in Newfoundland located along the southwest coast of the Avalon Peninsula on Placentia Bay. Regina was proud to say she came from God's Country (aka Newfoundland). During WWII, Regina worked at Fort McAndrew in Nfld, a very important base in the U.S. war effort.
In the 1960s, Regina followed her son, Joe, to Hamilton, Ontario. Regina bought herself a house on West 5th Street across from her work at the former Hamilton Psychiatric Hospital (HPH). In 1980, she retired from the HPH after 14 years of service. In retirement, Regina was still able-bodied, resourceful, independent and very capable. Everyday she walked from her home on West 5th Street to her son's house to spend time with her family.
Regina's love for children, animals, music and food prevailed. She played the accordian and piano. Regina's vibrantly coloured afghan blankets reflected her bright character. Her afghans were knitted with patience, care and creativity.
Regina was very close to her family. She cultivated in her family her love of music, faith, charisma, determination and hard work. She passed away on Christmas Day 2007. We still miss her greatly and cherish her memory.