Rowland Oswald De La Croix

Life Stories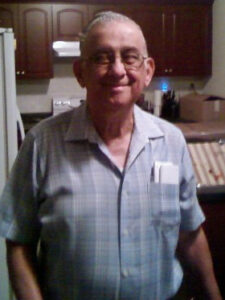 Father
Born: March 3, 1931
Died: November 11, 2014 in Brantford, Ontario
Interred: St. Joseph, Brantford
For our loving father, Rowland De La Croix, husband of the late Marlene, who passed away in his 84th year. He will sadly missed by his children, grandchild, great grand child nieces and nephews.
Rowland immigrated from India to Canada in 1970, and made a home for himself and his family in Brantford.
Rowland was a member of the Knights of Columbus, Legion of Mary, volunteer at St. Vincent de Paul and St. Joseph's Hospital and an usher at St. Mary's Parish in Brantford. Rowland worked for 23 years at Gates Canada.
He was a great father, family man, gentlemen and hard worker, who took care of all of his family with a caring heart and a smile on his face. He had a joke for anyone who looked a little down and cared deeply for his many friends.
Dad, may you find comfort in the arms of your loved ones in heaven and in the Father's care. You will be missed by all who knew you.
With love and laughter, until we meet again.