Santina Gallace

Life Stories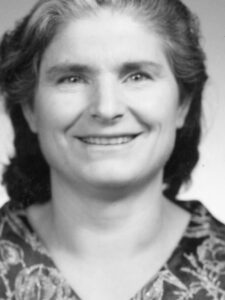 Mother, Grandmother and Great-Grandmother
Born: November 5, 1926
Died: July 6, 2018 in HAMILTON ONTARIO
Interred: Holy Sepulchre, Burlington
Santina Gallace (Demasi), born in Fabrizia, southern Italy on November 5, 1926, the youngest of 11 siblings. Her father was a merchant who traded goods and travelled to coastal towns with wagons pulled by beast of burden. This, along with everyone working hard to grow crops on small plots of land and raise cattle: chickens, pigs, etc. helped the large family survive.
Santina's childhood was blissful as the baby of the family. She was very fond of her sister Catina and brother Bruno, who kept a close watch on the sisters. She loved school and was a quick learner, but at the age of 9 she had to quit as her father, Ilariantonio and brother Bruno died.
At the age of 22 she married Angelo Gallace on Dececember 11, 1948, and gave birth to 7 children.
To make a better life for the children, the family followed Angelo to Canada. They crossed the Atlantic by boat on cargo ship called Volcana and landed in Halifax on May 27, 1961. Angelo, took them to Hamilton in their own home at 21 Clinton Street.
Santina worked hard on farms, restaurants and cleaning offices, while taking care of the growing family.
Santina loved plants and trees. Everything she touched simply bloomed. Her garden was a jungle of many varieties of fruits and vegetables.
Santina's heart was broken at the stillbirth of her 7th child, the death of her husband, Angelo on August 12, 2006, the passing of her youngest son, Nazareno on July 6, 2007, and son Joseph on July 28, 2015.
Santina loved going to church & loved prayer; especially she loved Holy Mary, Jesus & St Anthony. She contributed to churches & arranged for masses for her departed husband & sons.  Santina passed peacefully at her home surrounded by family on July 6, 2018. Life will not be the same without her.