Shirley Therese Richardson

Life Stories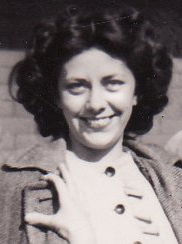 Wife, mother, grandmother, great-grandmother, sister, aunt, & friend
Born: October 18, 1925
Died: September 22, 2008 in Hamilton, Ontario
Interred: Our Lady of the Angels, Stoney Creek
I Saw You in the Sky
by
Susan Olinski
I saw you in the sky tonight, as you flew on your way,
To heaven up above, for you got your wings today.
"How'd she get her wings so fast?" Someone questioned in surprise.
And when I stopped to think it through this was my reply:
As a child she loved school and she was very smart,
But the world was in depression so she had to do her part.
She had to help her family for she was the oldest child,
But soon she met a young man that her dad had said was wild.
It wasn't long till they were wed, on Christmas Eve they say.
But they knew sadly through it all, he had to go away.
The world had sunk into war, he bravely went to fight.
She worked and waited through it all for she knew it was right.
When he returned from war their family soon began to grow.
Her life was raising children for she loved them so.
She cooked and cleaned and hung dresses on the line.
And never once did she complain, she thought life was fine.
Then before she knew it grandchildren had begun.
To her it was a celebration for each and every one.
With many great-grandchildren she was soon blessed.
She loved them all so very much; to her, babies were the best.
So when I saw the shooting star I knew that it was true.
You had got your wings today and I knew that it was you.