Stephen Cribbin

Life Stories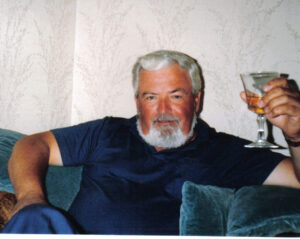 Son, Father, friend.
Born: 1936-12-26
Died: 1997-01-03 in Hamilton, Ontario
Interred: Holy Sepulchre, Burlington
Steve was born to Thomas and Nel (nee Murphy) Cribbin in Sarnia, Ontario in 1936. Older step-siblings include Joe, Nora (McAteer), Tommy & Amy (Boyle), and older brother Bill and eventually came along younger brother Larry in 1940. They all grew up in the Sarnia, London area until he was hired with an infrastructure construction company and posted in Thompson, Manitoba in 1958. He was involved with the local sea cadets, had several life threatening illness through his youth.
There he met Sandra Starratt, a young nurse posted from Winnipeg to Thompson. Shortly after they married and he was re-assigned to Toronto. They found an apartment in the Casa Loma area where Erin Lea was born January 8, 1964. The family moved to Burlington where Sean Michael was born April 4, 1967. Then he moved the family to Dundas in the early 70's and lived there until Steve's death in 1997. Steve worked for various companies on projects within the Dafasco Steel Mills in Hamilton, until he tried his hand at entrepreneurship in the late 70's. He had co-ownership in 'the Aquarium' a seafood restaurant in Hamilton expanding to the Burlington area. Later, with his brother Larry; imported fireplace inserts and water purifiers for several years, then went back to consulting for construction companies.
He earned his private pilots license in the early 70s and owned a small plane through mid 70- mid 80's and traveled around Ontario with a few long haul flights to Florida. He loved to travel and had several adventures including Ireland, Tokyo, Spain, Caribbean and Russia. He was involved with the the Dundas Legion and Lions club for many years and was an avid snowmobiler. His granddaughter Caitlyn Anne was born April 19, 1996. He took ill in November 1996, celebrated his birthday 60th birthday December 27th in hospital and passed January 3, 1997.