Tracie-Lynn Gates

Life Stories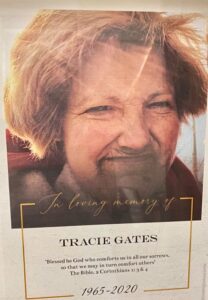 Mother
Born: January 25, 1965
Died: July 29, 2020 in Hamilton, Ontario
Interred: Our Lady of the Angels, Stoney Creek
Loving mother of Maeghan, Stevie-Rae, Morgan, Jackson, and Zackery. Loving Grandmother of Phoenix, Kaleb, Shawn Jr., Kaleb, and Jasper. Beloved sister of Kelley, Mary, Matthew, and Kathryn. Cherished daughter of the late Carlisle, Carol-Anne, and the late Lawrence ("Larry").
Tracie did not have the best life. Hardships, and personal issues became her normal. However despite her struggles in life, it was evident that she still loved her children and family. When her children hurt, she hurt. She loved each of them very much even when the going got rough. Deep down she loved her siblings, her Mother, her Father, and Step-Father. It was just hard on the surface. If given the chance, Tracie would redo her life over again and make it better for not only herself but for her loving children and family members as well.
In the end, Tracie was a memorable person. She loved to do puzzles, always had a "Wall of Love" in her residence (photos of her children and love themed home decor), and talk about her children often to anyone. Every chance she got to be with her children and grandchildren she took and always enjoyed being in their presence. When Elvis Presley would come on the radio, Tracie would get up and dance as Elvis was her ultimate favorite music artist ever since she was a little girl. Tracie was an avid supporter of the LGBTQ2S+ Community especially given that her 1 son identifies as part of that community.
Tracie will be sadly missed by her family especially by her 5 beautiful children. A special thank you to her son Jackson who handled all of her final wishes, affairs, so on and so forth. Tracie couldn't have picked a better person. You made your Mom proud and gave her everything that she had asked for and then some. More importantly, she does love you and the rest of her children and family.
"No farewell words were spoken
No time to say goodbye
You were gone before we knew it
And only God knows why."
We love you Mom. May you RIP and we hope that you find the peace that you didn't find in life.
We will always miss you and we will never ever forget you. Til we meet again. Love and miss you always Mom.
Tracie will never be forgotten and she will always be loved by those who knew her, her children, and family.