William Joseph Robichaud

Life Stories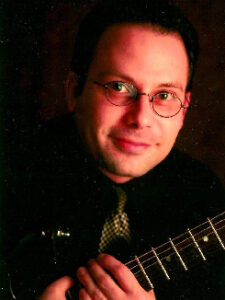 Devoted father, husband, son, brother, uncle, grandson, friend and talented musician
Born: October 4, 1975
Died: May 15, 2009 in Hamilton, Ontario
Interred: Holy Sepulchre Catholic Cemetery, Burlington
Billy Robichaud was a talented musician who began playing guitar at the age of twelve. He grew up listening to Country, Rock and Bluegrass music. He performed in venues such as Clubs, Casinos, Festivals and Concert Halls. In addition to playing lead guitar he also played Bass, Mandolin, Drums, Saxophone and Baritone. Billy also spent the last ten years of his life teaching music in the Hamilton area.
Billy was a very kind, generous and loving young man. Though his life was very short, he managed to live a full life gathering many friends along the way.
A more wonderful, loving and caring son could not exist. Billy's companionship and sense of humour will be greatly missed by his Mom and Dad. Their arms are sadly empty, longing for his hugs and kisses, and wishing to hold him once again.
Bill was a great older brother who always made time for his sister Shari, even letting her tag along no matter how uncool it seemed. Growing together into adulthood bonded these two siblings into friends. The times shared together will always be cherished and fondly remembered by Shari. She will keep her memories of him close to her heart always.
Billy was a loving and devoted husband, never failing to keep in constant communication whenever he was working away from home. A prouder father could not be found, he adored his son and actively prepared for his arrival by attending all doctor's appointments and ultrasounds. He always spent time with his stepdaughters, teaching them to play the guitar and ukulele. He will be greatly missed by all.
Billy leaves behind his most cherished four week old son, Benjamin, his much loved wife Laura and his adored stepdaughters Jane, Emily and Hannah. He will always be loved and remembered deep within the hearts of his parents Joseph and Catherine. His sister Shari, his brother-in-law Mike and his nephews Brendan and Andrew will love and miss him always. His grandmother Florence is deeply saddened by his loss and will miss him so much.
FOREVER IN OUR HEARTS